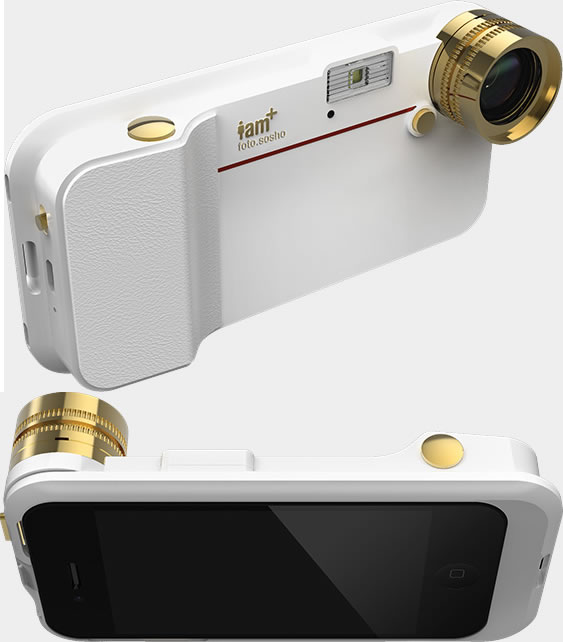 Last week this rather bulky add on gadget was released to the world from I.Am+ by Will.I.Am which is an iPhone case with a difference, the I.Am+ Foto Sosho.
The idea is to make your photos better, and is billed as a must have iPhone gadget for the tech savvy and fashion conscience amongst us.
It is a case which your iPhone fits into, and has an interchangeable lens along with a flash. It works along side it's app which you can download, and add filters to your snaps, and share them amongst your friends. The higher end model also features a backlit slide out keyboard. They are available now exclusively from Selfridges, priced at £199 and £299 each (the £199 option is pictured). Both come with a set of lenses which include a standard, fisheye and wide angle lens.
These are available for the iPhone 4 and 4S, with iPhone 5 models coming next year.
So, what do you think of it?
I think it's horrible. First of all lets talk about the size, and it's a pretty big ol' unit. Check out the above picture with the black iPhone inside, it looks so huge and chunky, it's adding all kind of size to your sleek mobile gadget. The higher end model is even bigger to accommodate the keyboard. The emphasis is put onto fashion meets technology, but I don't see either of that here.
Let's not forget that your iPhone is still a phone. You will want to keep it in your pocket, and it may not fit with this case attached, or you may not want to put it in your pocket and risk damaging the lens.
I got myself an olloclip which is a brilliant little piece of kit, and comes with the same type of lenses you get with this. However that was only £60, more than three times less than the entry level I.Am+ case. I loved my Olloclip, you can do some really cool images and it's a lot of fun.
Let's talk about the price; £199 and for that we get a bulkier, heavier and uglier phone, and £299 for the higher end model is a bigger joke. As mentioned above, an Olloclip is a much better option, and there are many other cheaper options out there.
I don't really understand what this is for. The cool thing right now is Instagram, and in fact all lo-fi photography. What this gadget promises to deliver is better quality iPhone pictures. But that is not what we want, because if we want amazing quality pics, we have real digital cameras and DSLR's which are much better than this. It comes with it's own app, but we don't need it, because we already have Twitter, Facebook and Instagram to share to; Instagram dedicated for cool pics and has numerous filters for your images. It's a gadget which doesn't really do anything new, or more to the point anything that we want.
So this is a really ugly, expensive and useless device, and I really can't see why you would want this.
 If you do want one of these then you can buy them from Selfridges now, starting as mentioned from £199 for the iPhone 4/4S models, with iPhone 5 coming later.
Thanks For Reading...Want More? 🙌
Hi, I'm Michael 👋 I'd love you to subscribe to my newsletter for exclusive content & updates on my blog straight to your inbox. (No spam, I promise!)