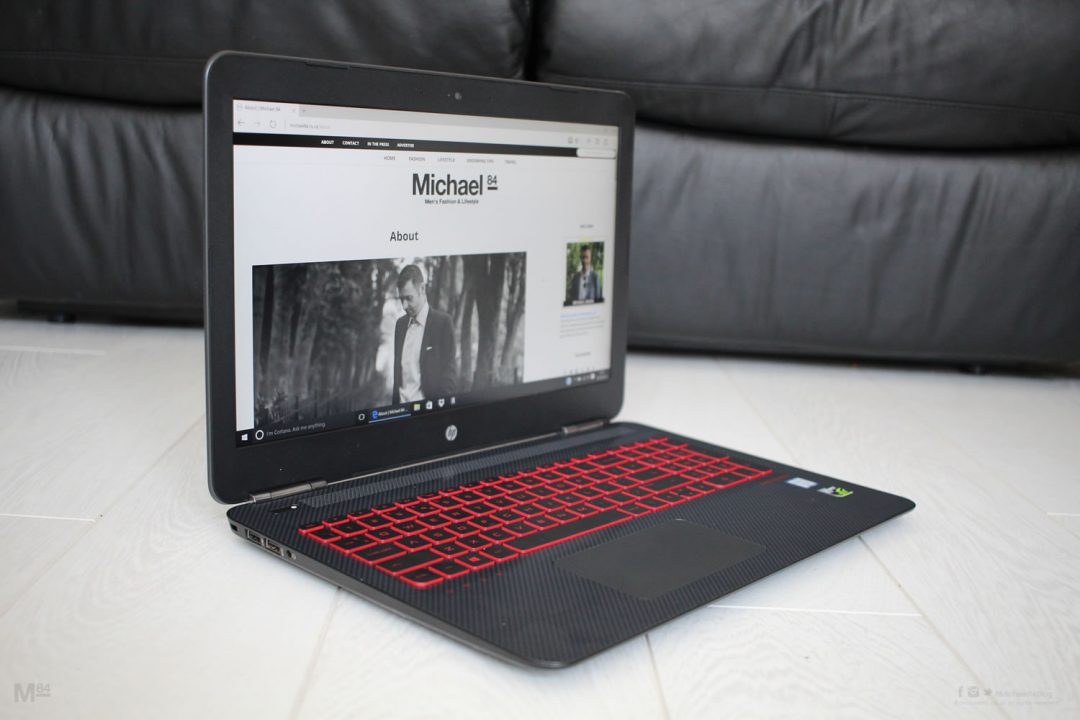 In the past I've always associated PC gaming with a traditional PC, because back then, laptops were never really thought of as a gaming machine. However times have changed, and so many people have switched over to a laptop or ultrabook rather than a traditional PC. If you know about gaming then you'll know that the one thing it needs is power, and I am excited to try out the brand new HP OMEN 15, HP's PC gaming machine.
The Overview Of HP OMEN 15
So the machine itself is pretty nice. It has a 15.6″ screen which is inside a pretty nice faux-carbon fibre body which is called shadow mesh, and comes  with the red OMEN graphic on the lid. At 2.2kgs it's actually not too heavy for a 15″ gaming laptop, which are known to be a little on the beefy side. However the relative light weight of the machine does not compromise the power which is under the hood. It packs a 6th generation i7 CPU along with a dedicated Geforce graphics card, SSD drive and 16GB RAM. I've got the full details on the spec of this beast below.
First Impressions
Once you open the lid you're greeted with a full size keyboard with num pad, which is backlit and glows red. The trackpad is a generous size, and is very responsive. Thanks to the SSD drive start-up time is incredibly quick, I managed to get this from pressing the button to the Windows screen in 6 or 7 seconds, which is lightning fast. The screen is really beautiful, it's bright, and this model comes with a 4K Ultra-HD screen (3840 x 2160). As mentioned this is not light in comparison to a smaller ultrabook, but when you compare it to it's counterparts in the gaming laptop class of machines, it's a fairly light 2.2kgs. It's also got quite a low profile, it's quite a slim machine for the amount of power which it has, so overall it's mobile enough to take with you to do gaming on the go, but you'll probably want to put it down on a desk and pair it up with an external mouse to get the best gaming experience.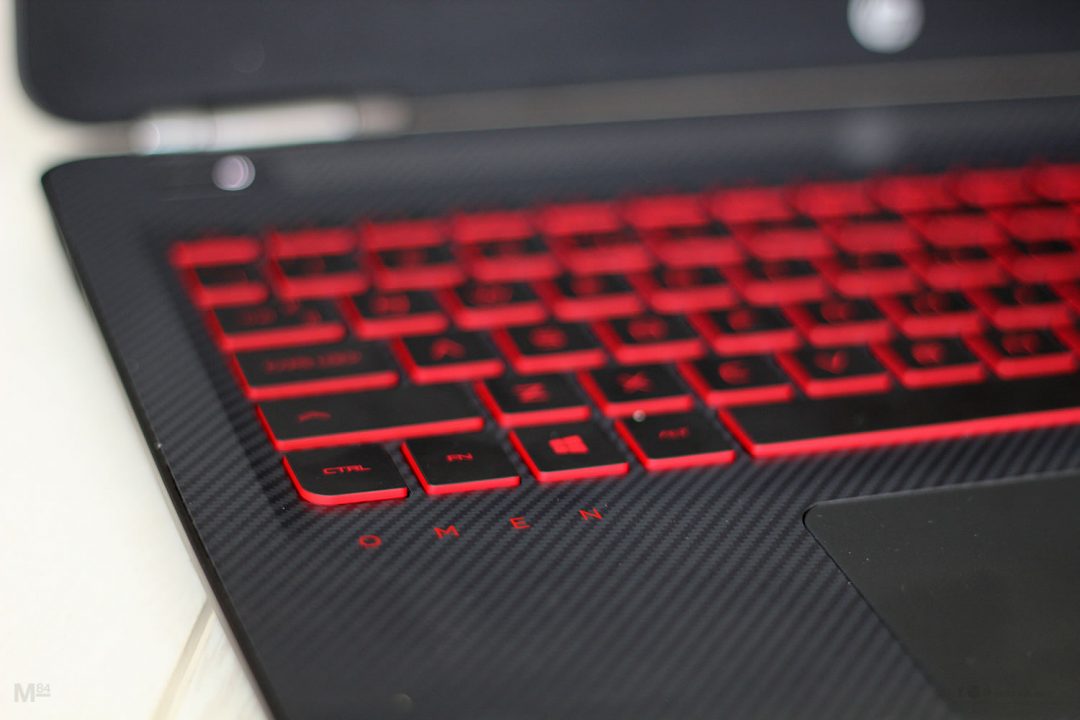 Keeping Cool
When you have a machine with so much power, cooling can be an issue. The OMEN is designed with this in mind, and has lots of ventilation on the underside and back of the chassis, keeping the machine cool when you're at full load using maximum power while gaming. When I tested this is was silent while idle, however while running games the fan does kick in, and the machine gets very warm. This is to be expected, and it's not something which is unusual. The heat is obviously more noticeable when you pick up the OMEN or have it on your knee, but you should be using this on a table-top for gaming. The noise of the fan is apparent but not too loud, and is quite manageable.
The Audio
It's not just the looks which are impressive, there's Bang & Olufsen audio in the machine too. The audio is pretty good for a laptop, I am used to high quality headphones and being completely immersed in sound which pretty much nothing is going to be able to do, but overall I was quite happy with the sound in both the volume and quality. I noticed that the sound seemed to really come to life when playing games, rather than doing the usual Windows/browser tasks, more on that below.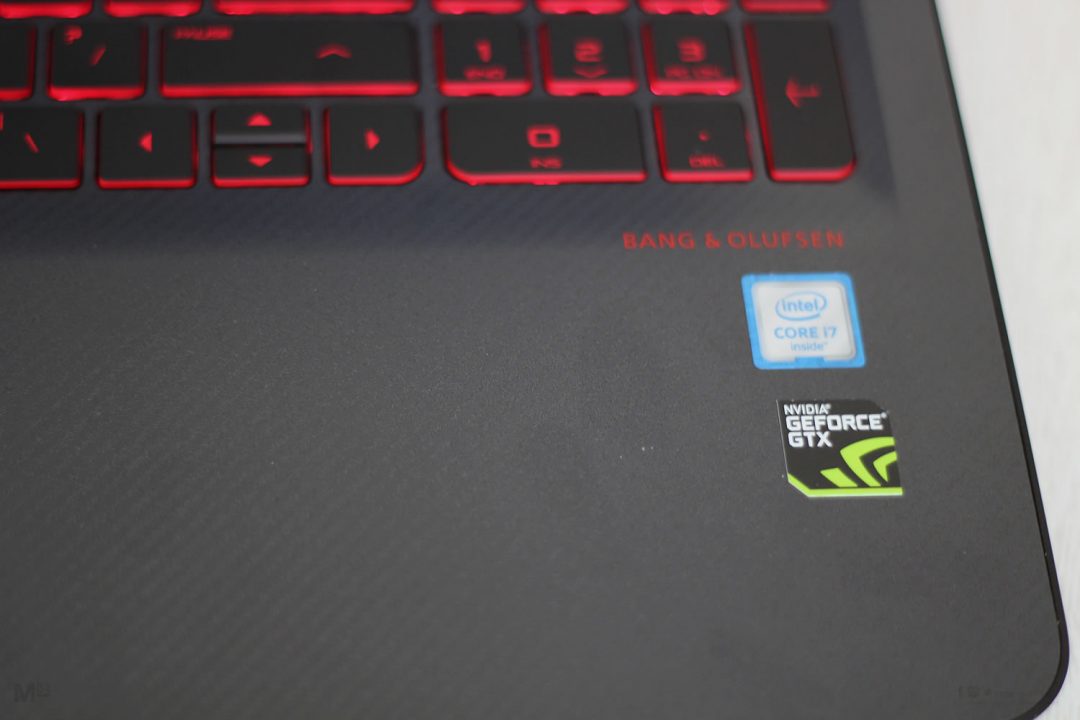 Testing Out Games – Football Manager 2016
I have to test out my favourite game and the favourite game of many, Football Manager. As you will know, Football Manager is not so much focused on frame rates like a first person shooter would be, however when you run a large game everyone who's played it knows you need quite a bit of power to make the game fluid, fast and to get the best experience from it. Along with the intensive processing, there is a 3D match engine to contend with which can show off some of the OMEN's power.
Running through the game day to day was quick, and when it comes to the 3D match engine it ran super smooth, even at the native 4K which I was running it at (FM defaulted to zoom in 200%, and it looked crisp and sharp). I don't usually play FM with the sound on, but for this test I did, and it's actually a really good experience. I may have to start playing it more with the sound effects on, it really does add another dimension to the game. Overall I have to say the OMEN handled the game well, running the large database with England, Italy, Spain, France, Germany, Brazil and Argentina activated, it never struggled.
Hopefully in a few months time I will try out the brand new Football Manager 2017 when it's released too.
Payday 2
A game which I saw a couple of years ago was Payday 2, and it looked like a really fun first person shooter, and reminds me kind of like old school Virtua Cop arcade style, albeit much updated graphics and of course you're on the other team. I thought that playing this would be a good idea on the OMEN, because it's an FPS and is pretty fast paced, and wanted to see if the OMEN could keep up. The game was brilliant, and looked detailed and was very fluid, I was running it in 1920x1080p with all the graphics maxed out and it was as smooth as silk, and very responsive. The sound was also really good, and comes alive when you're playing games much more than when doing general Windows and browser tasks. I hadn't played an FPS for quite a while, and I need a lot of practice!
The OMEN didn't seem to break much sweat playing this, the fan was on but it was not at full load, possibly because this is a slightly older game, and so not as demanding on the OMEN's new high spec tech.
Verdict
The HP Omen is a really good gaming laptop, and is packed full of power, the latest tech, and the added bonus of a 4K screen. There's 4GB of dedicated graphics to handle the gaming, which is kept cool by all the fans at full load, and if you're just using the machine for casual browsing or day to day tasks it runs smoothly and quietly. The HP Omen 15 starts at £699 which is a fantastic price for a gaming laptop with dedicated graphics and SSD, and goes up to a reasonable £1199 for the maxed out model with 4K screen. You can buy yours here at the HP Store.
Full Specification
HP OMEN 15.6″ Laptop
6th Generation Intel® Core™ i7 processor: Intel® Core™ i7-6700HQ (2.6 GHz, up to 3.5 GHz, 6 MB cache, 4 cores)
16GB DDR4-2133 SDRAM
256GB SSD Hard Drive + 1TB Hard Drive
NVIDIA® GeForce® GTX 965M (4 GB GDDR5 dedicated)
Discrete Graphics
Audio: Bang & Olufsen, HP Audio Boost Dual speakers
Webcam: HP Wide Vision HD Camera with dual array digital microphone
Accelerometer
Ports: 1x HDMI, 1x headphone/microphone combo, 1x USB 2.0, 2x USB 3.0, 1x RJ-45. 1 multi-format SD media card reader
WIFI: Intel® 802.11ac (2×2) Wi-Fi® and Bluetooth® 4.2 Combo (Miracast compatible)
Battery: 3-cell, 61.5 Wh Li-ion – Up to 10 hours and 30 minutes usage (Supports battery fast charge: 90% in 90 minutes)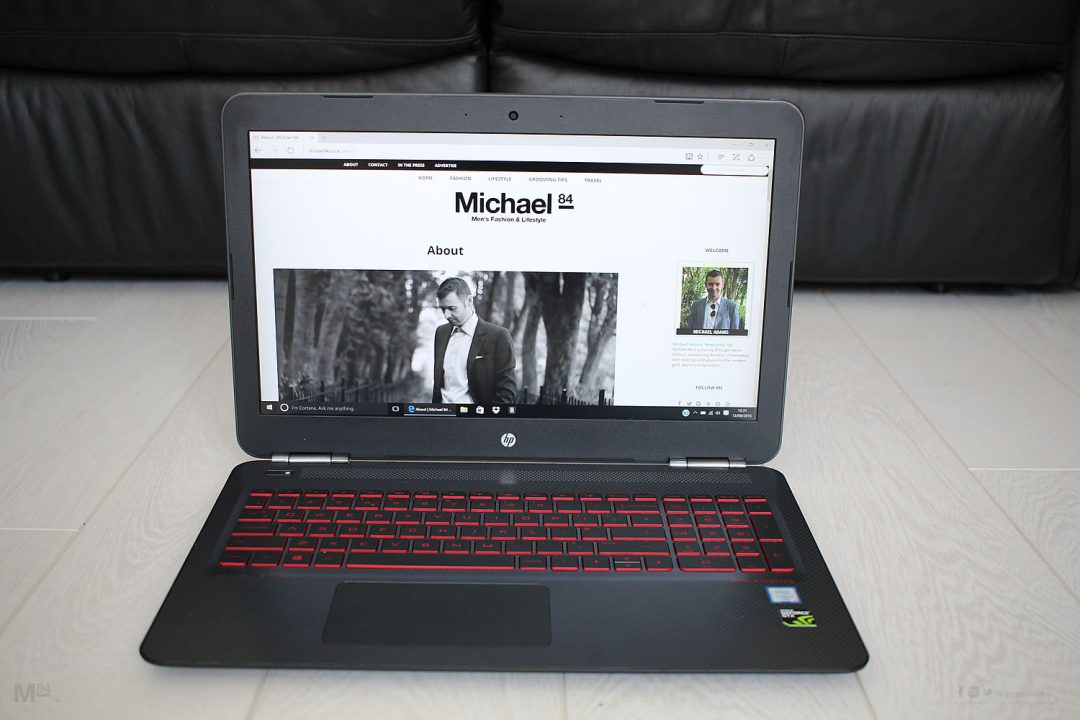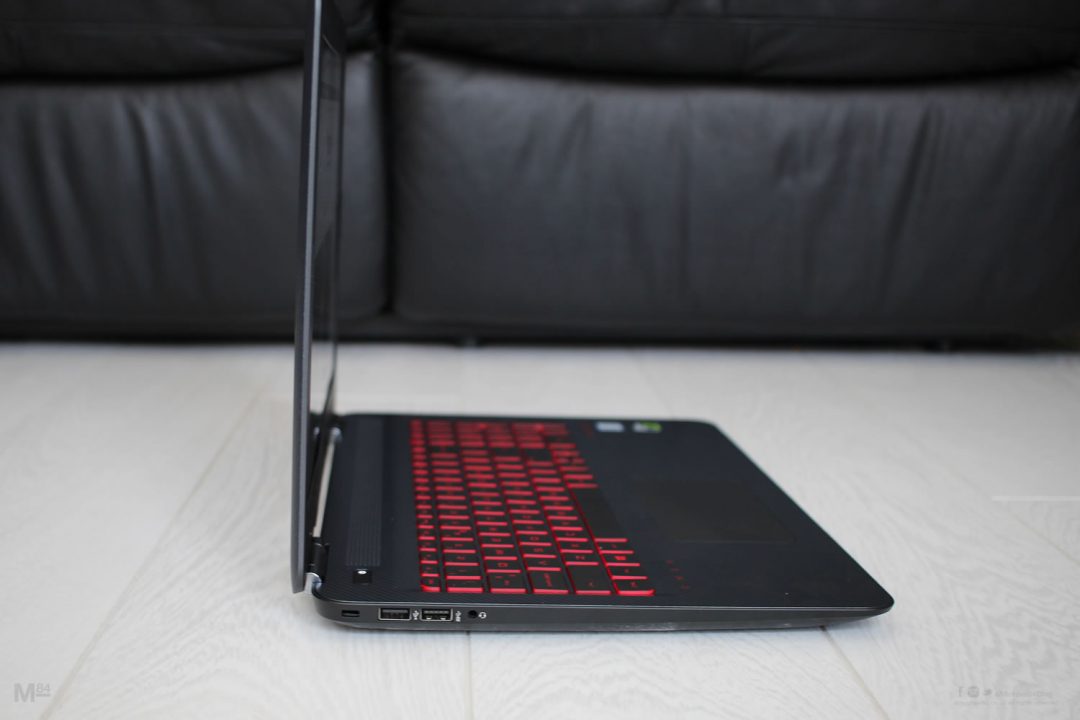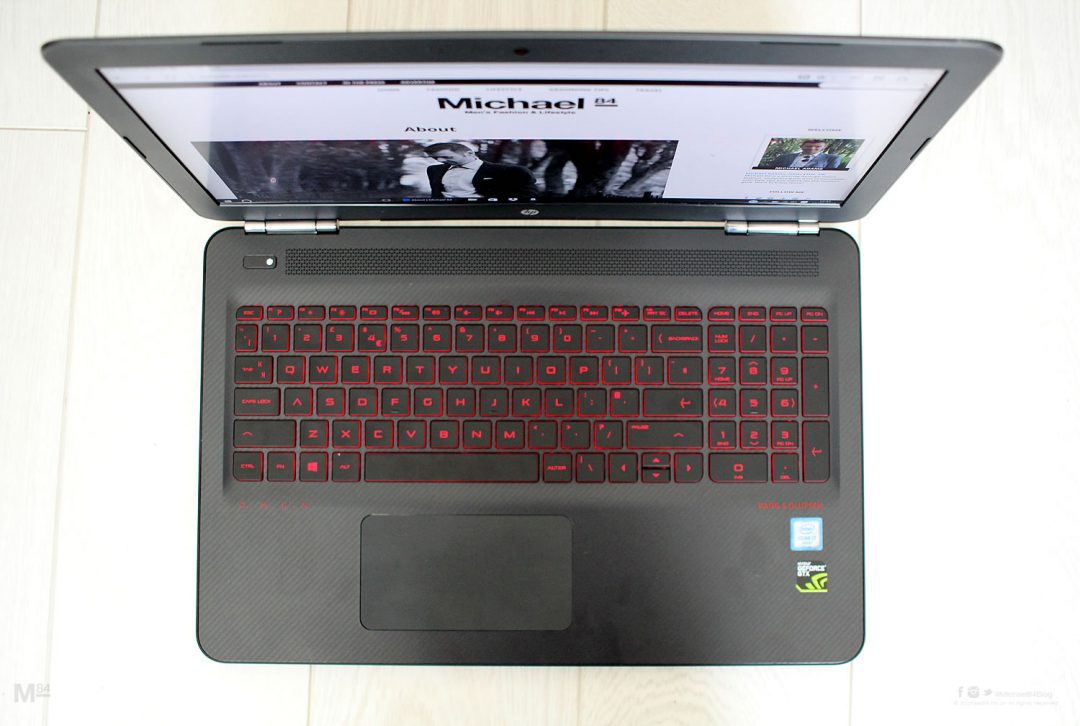 Written in collaboration with HP
Thanks For Reading...Want More? 🙌
Hi, I'm Michael 👋 I'd love you to subscribe to my newsletter for exclusive content & updates on my blog straight to your inbox. (No spam, I promise!)