Happy birthday blog!
It is exactly 2 years since I started to blog! 13th December 2009 was the first time I started blogging properly. I did blog before that as you will be able to see from the archives, but that was just occasional blogging where I don't consider myself to be a "blogger" as such. Two years ago I decided that I wanted to give blogging a real go and be a proper blogger, in the sense that I would blog very regularly.
It is actually really hard to blog almost every day for so long, as I am sure you will know if you are a blogger or tried to blog. I actually started my very first ever blog in 2005, but struggled to find things to write about. I have since had quite a few blogs, but have never took any too seriously because I always ran out of things to write about; I had a football one, a geek type one, a music one, a general one, a celeb gossip one…After doing all of those I decided that I would just do a personal one, which is this; So I can combine everything into one, which has a few problems like "who is the audience?" but I guess it is people who like the stuff I do, and since I like lots of varied stuff I guess that is a lot of people 😀
I wish I had of stuck at it in 2005 but I was too busy with other things, and it was too early for blogging in some ways; It was hard to imagine back then that people would come and read my blog, why would they wanna do that, how would they find it, etc. In many ways it is still quite early in the UK, blogging has not caught on here like in some parts of Europe and the U.S. But in certain circles it seems like everyone now has a blog. I think Twitter has been a big influence, that is micro blogging, and people are taking themselves to the next level with a blog, but most realise it is quite hard work 😀 Celebrity bloggers like Perez Hilton and others have developed the blogging scene too, many want to be like them.
To celebrate my 2nd year blogging I have made a new header and slightly changed the menu bar. The header may change a bit, it is still "work in progress" but then again the last one was too

I have gone for the very sleek and simple approach, I do not want it too cluttered with elements or text, just plain and simple and I think it works 🙂 I may add a few "photo frame" styled photos to it to give it something a bit more personal, but we will see 🙂
What do you think of the new header?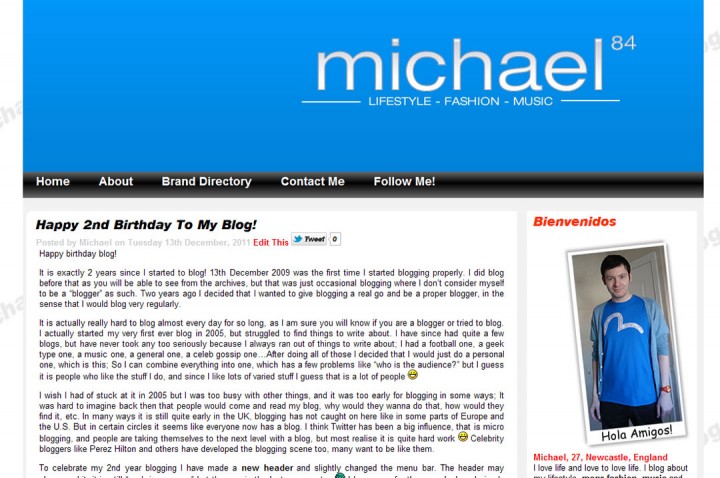 Thanks For Reading...Want More? 🙌
Hi, I'm Michael 👋 I'd love you to subscribe to my newsletter for exclusive content & updates on my blog straight to your inbox. (No spam, I promise!)