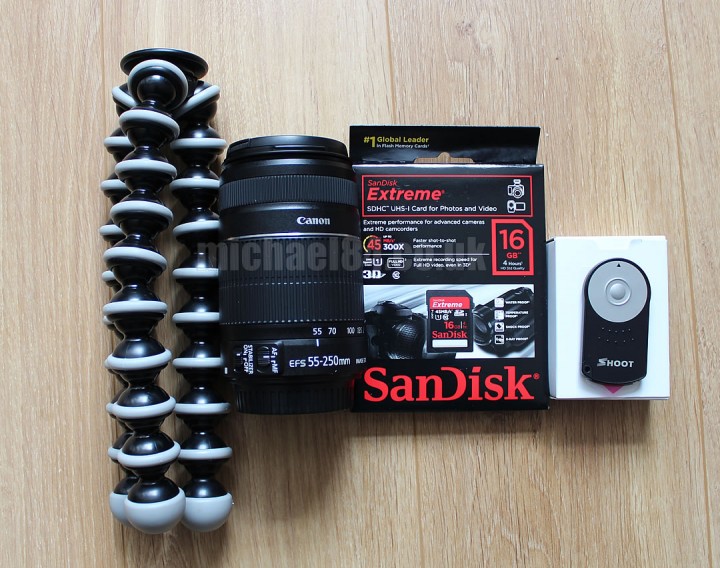 The other day I was blogging about a new lens and I did not know which to get. I wanted a longer length zoom lens, so I could take shots from further away, I think everyone needs one of these kinds of lenses for your camera if you have an SLR. I decided on the 55-250mm lens, and it seems to be really good 🙂 It comes with image stabilisation which was the winner for me, when zooming in you really need a steady hand, I don't have a steady hand

I also got a cheap remote so I could do portrait shots without the 10 second timer. I have to say it is rather good and very thin, I thought since it was a cheap version it might be thick and heavy but it is not. Bad thing about it is that it is infra red so it has to be in the line of sight like a TV remote; I tried to find a radio one or better wireless one but couldn't.
Picked up another memory card, This is pretty much my standard card I will buy these days; Sandisk Extreme Class 10 16GB. I can get over 3000 shots on my Sony compact camera with this, probably about half that on the Canon 600D.
Finally I got a Joby Gorillapod. I have one of these for my compact, and so bought this one. I was wondering how it would be able to hold my SLR as the one for my compact is small, I thought this one wouldn't be much bigger but it is! It's really chunky and much bigger, it has to be to support the weight. You cannot really tell the size of the thing on an Amazon product photo as there is nothing to compare it with, but it can tell you it is a nice size, a bigger version of the little compact variant. I will do side-by-side pics later.
Thanks For Reading...Want More? 🙌
Hi, I'm Michael 👋 I'd love you to subscribe to my newsletter for exclusive content & updates on my blog straight to your inbox. (No spam, I promise!)