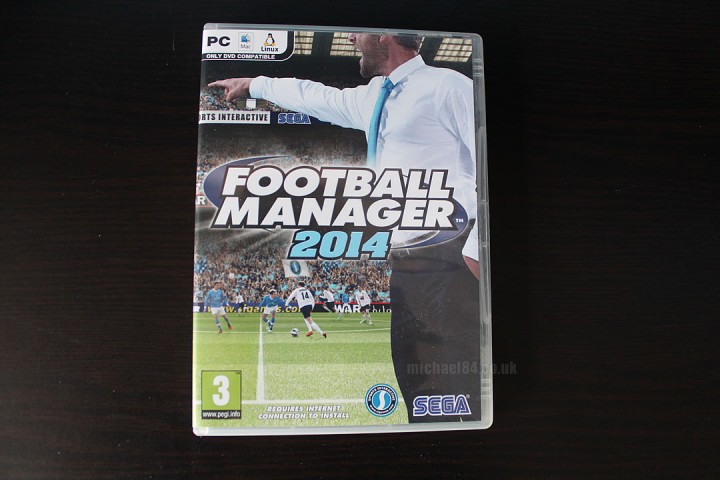 I am and always have been a fan of Football Manager. From the days of Championship Manager 93 on my Amiga, CM2 on my PC and now the days of Football Manager. A few weeks ago came the tradition of getting the latest FM on release day, on disc in a box of course, not a download…What can I say, I am truly old school 😉 Just over 2 weeks later and I have finished a full season with Newcastle, I finished 8th but should have been higher if my team had not imploded in the last 5 games and Coloccini got injured for my last run of games. The fun of the game has been restored for FM14.
So what are the stand out features
If you listen to the PR blurb you'll hear the line "more than 1000 new improvements", it's not a complete new game from the last one, but you would not want that. It's more of a fine-tuned, refined version of the last, and it feels like a much better game to play.
Apply assistants advice
A new addition which I love and use is the apply assistants advice feature. When you're in a game your assistant gives you information about how the game is going. This was useful before, but if you chose to listen you'd have to go and look at your team and decide what to do. Now it's as simple as clicking "apply advice" and it's done for you. Of course you don't have to listen, or do your own thing, but it's a great feature which speeds up your game making it more enjoyable.
Tactics screens improved leaps and bounds
It's so much easier now to create tactics, which is obviously key to your team. One thing I love is that in the overview screen you can click a position that a player is playing, and it gives you hit rating on the roles you can assign him. This is a huge help, and speeds things up no end. Click your midfielder and it will tell you how good he is at being a general CM, deep lying playmaker, box to box midfielder, advanced playmaker or ball winning midfielder.
Instructions screen so much better
On the previous version the instructions were a drop down list, you could only select one at the time. This was so slow. Now when you click instructions you're presented with them all, and can select multiple instructions at once. Not only that, anything which conflicts cannot be clicked. Choosing "Shorter passing" will turn "route one" and "direct passing" red indicating they conflict and you can't choose them. Once again, another great refinement.
Loan reports overview
Sending your players, especially youngsters out on loan is always a good thing, but how are they doing? Now you can get a big overview of your loaned out players, in a report. What's their Average rating, how often are they playing, how many goals have they scored and so on.
Loan feedback
You send a player out on loan and he's being played out of position. In previous versions you would not know unless you took a detailed look at every player who you sent out on loan. Now you get notified, and can interact with the loan-team if you are not happy.
Monthly contribution is the deciding factor in loans
On the previous game if you wanted to loan a player the team may ask for 50% wages + monthly fee of 50k. On occasions you may of been able to afford the 50k fee, but your board would not allow 50% wages and only 20%. This years version has gone some way to change that, and the monthly contribution is what counts. If your board will only pay 20% wages, you may be able to make that up with a higher fee, so the total monthly contribution is met. This is extremely handy if you're trying to get players on loan but you can't pay enough percentage of the wages.
Ask player to sack agent
You can now ask a player to sack his agent. I cannot comment too much on this, as I have asked a few players and none have sacked their agent on my say so.
Negotiating Transfers
You have been able to negotiate players wages for a while now, and this system has been introduced for transfers. It makes negotiating the transfers that little bit quicker.
There are so many other great things about the game, lots and lots of little improvements, but I think I have covered most of what I have found to be new and good in the game. No doubt I have forgotten a few, if I remember I'll add them 😉 And now, the bad…
Realistic Annoyances
I am not going to say it's terrible, or a bug, or any of the things that I've read other players and reviews write. I'm going to call them realistic annoyances. Why? Because that is exactly what they are; Annoying, but can happen in real life!
Contract demands – Change their status, they want more money
Players seem to make extraordinary demands to renew their contracts, or when buying new players.  That means if you can't afford them, you have no chance of keeping the player, or signing a new one. Something else which is new is squad status being tied in to their demands a lot more. Your board may allow 10k for a backup player, and the player may ask for 20k. Your board may allow 20k for a first team player. If you then tell the player he'll be first team he'll then want 30k instead of the 20k as the status is higher! Of course this is quite realistic, but very annoying and it means you won't be able to sign/renew the player's contract.
Low offers for your star players
This has happened to me quite a lot, with the computer managers offering low amounts for my players. If you up his value he'll then come and talk to you and say his value is too high, he can then become unhappy which affects him in the game.
Runs of form
Again, realistic, but annoying. I think the runs of form in this version is a lot better than the last when it seemed to be prominent. It almost did not matter who you played, if you were in form you were in, and if not you'd lose. In my FM14 season  I won 4/4, but then lost 3/3, then went on a run of 6 without defeat, then lost 5/5!
Is it slow, or slower than FM 13? (The full game, not classic mode)
It is not slow, as long as you are realistic about setting up your game. I read a lot regarding other peoples reviews that the game runs slow. They then say they run 15 or 20 leagues and have a not so good laptop…Well what do you expect! If you don't have such a good machine and want a fast flowing game you have to be realistic in your setup. I am fortunate enough to have a great setup (which I will post below) but I still only run 6 or 7 countries and only the top league from some of those; Usually around 40,000 players according to the game.
In terms of completing a season I think it's as quick (or slow depending on how you see it) as most of the other FM games, even as far back as FM 2009. It took around 18 hours of game play to do, which is probably in and around the average I spend on a season and have done for years.
Choose the right game for your life
The veteran CM/FM players like myself and others now have real world lives. We no longer talk about the game at middle school discussing which players are good to sign and how their game is going. You need to invest some time in the game (as you do with a lot of other games) and it could be time you simply don't have. I, myself am now just a weekend player, and that's only the weekends which I have free and can devote a few hours to playing. But what do you do if you love this game? I don't think Classic mode is the answer. I tried to play that, and it did not seem to quick for me, I did not save much time doing anything and it just did not speed up my playing time. The answer is FM Handheld. I first played FM 2009 on my iPhone and it was fantastic.. It's far more pick up and play, it still has quite a bit of detail and of course the FM feel to it. If you get the iOS (Apple) version you can save to the cloud and resume…That means playing on your phone on the way to work, and back at home on your iPad with the same game. It's like playing Champ Man in the good old days!

Verdict
It has no competition, so it's the best game in the genre which you can buy. If you liked any of the previous versions, you will like this, and the new features and refinements will make your game easier, faster and more enjoyable. The level of detail is so great, but anyone who's played any version of FM will know that goes without saying. You do have to dedicate some time to playing, but that can be said for GTA V or most games these days. If you have a passion for football I don't need to tell you to get it, because you will already have it 😉
My system
Intel i7 4770K CPU @ 3.50ghz
32GB RAM @ 2400mhz
Windows 8 64Bit
Samsung SSD 840 Pro Hard Drive
Geforce GTX 660
Thanks For Reading...Want More? 🙌
Hi, I'm Michael 👋 I'd love you to subscribe to my newsletter for exclusive content & updates on my blog straight to your inbox. (No spam, I promise!)