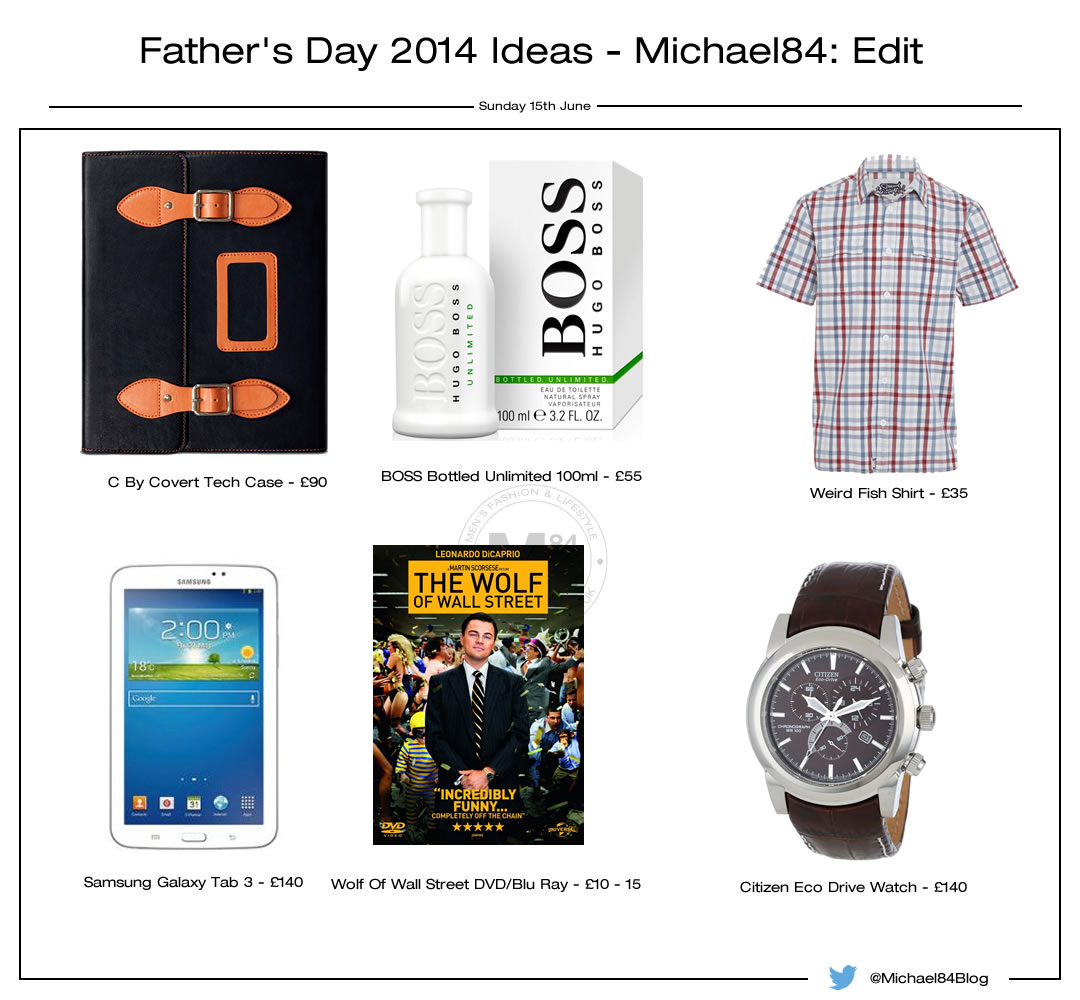 Father's day is only a week away, so time is running out to get your dad a gift this year. Dad's are notoriously difficult to buy for, pretty much because everything can be potentially a hit and a miss at the same time. Here are a couple of ideas to get you started, some fashionable picks for your dad this year.
First up are tech cases. You dad may already have a tablet, but does he have a fashionable case to put it in? I got a C by Covert case a while back and can recommend them. They are made well and are as luxurious as they look. My favourite design is the varsity, with plenty of other designs to pick from, supporting all kinds of devices, from iPads and iPhones, to Samsung Galaxy, Nokia Lumia, HTC and more.
Fragrance or aftershaves are a typical father's day present, so this year why not make it a special one. BOSS Bottled Unlimited is a scent from Hugo Boss which is a limited edition, and is available now in time for father's day. It's a light, fresh, summer style fragrance, and will make a great addition to your dad's aftershave collection. Get a 50ml bottle for £41 or a 100ml bottle for £55. You can get it from Boots.
How about a summer shirt? Weird Fish have a couple of shirts for the summer which could go down well. This short sleeve check shirt is a great colour which is light for the summer with some darker contrasting checks to give it some dimension. Available in a few colour combinations, I like it in cranberry. Get it for £35 from Weird Fish.
If your dad still does not have a tablet, why not treat him this year. Tablet computers are now really cheap, and I'm not just talking about some no-brand Chinese tablet poorly built with poor performance. You can pick up the latest Samsung Galaxy Tab 3 in a 7″ configuration for only around £139. It's a perfect little tablet for those who do a casual bit of reading or browsing the web.
What about films? If you want something new and edgy, I cannot recommend The Wolf Of Wall Street highly enough. If you read my review here you'll know I absolutely LOVE it! You can get the DVD for under a tenner and the blu ray for under £15. A good idea if you're looking for something not too pricey.
Every man needs a good watch, and every man loves a watch. Citizen Eco-Drive watches are a good, solid brand and highly rated by many. I've picked out this chronograph watch which is a minimal and simplistic style of watch, with a brown leather strap and large face. You can pick it up for around £140.
These are just a couple of ideas to get you started, good luck with your shopping, you only have a week to go! 😛
Thanks For Reading...Want More? 🙌
Hi, I'm Michael 👋 I'd love you to subscribe to my newsletter for exclusive content & updates on my blog straight to your inbox. (No spam, I promise!)