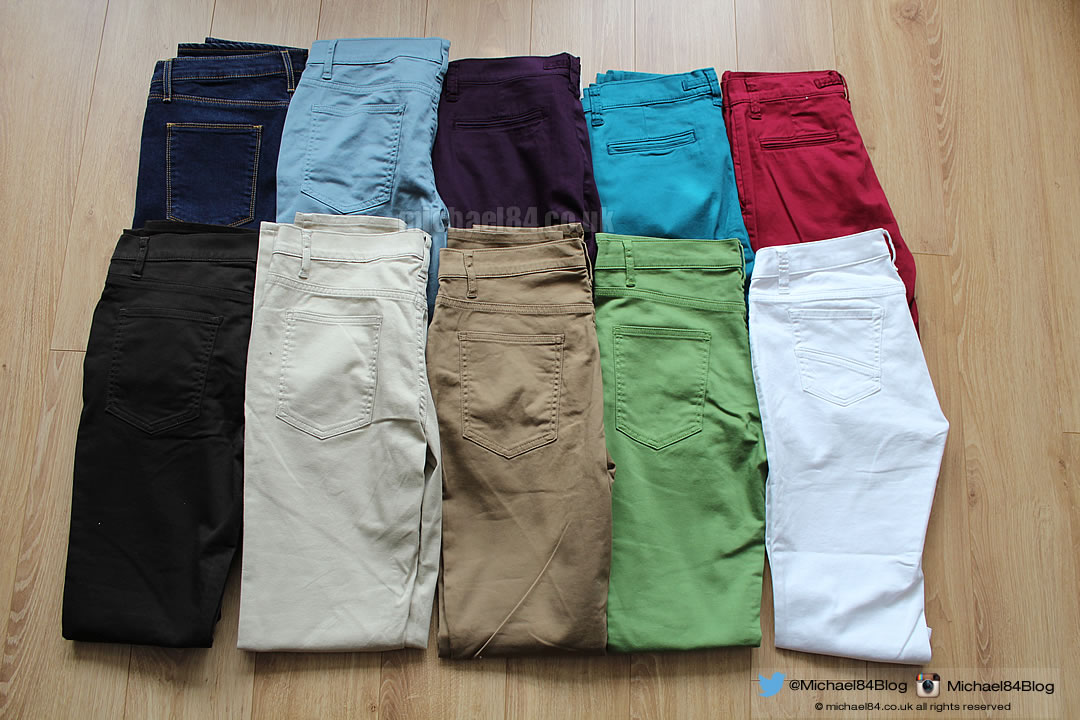 I have so much denim in Indigo and dark colours, and I love it. Darker denim is great because it goes with almost anything, it's always stylish and you can wear it as a casual thing, or even a more smart approach when putting together a look.
However sometimes it can get a bit boring, wearing the same old colour all the time, and the summer is a great season to wear different colours, and brighten up your look.
Wearing coloured denim jeans or chinos can certainly liven and brighten up your look. You can take a boring black or white t-shirt and with only a pair of coloured chinos you've created a more interesting look. It does not have to be bold and bright, you can get plenty of neutral or pastel colours, which will create a more toned down look, but still bright and colourful.
If you are not a huge fan of colour but want to add a little, I would recommend getting some high street labels or brands, so not to waste your money. You may only wear the colour a couple of times, so if you don't think you're going to be wearing colour a lot or for a long time, it will be better for your wallet.
Not only that, you can get 3 or 4 colours at high street prices, and create a range of looks and outfits with these colours, rather than buying 1 pair with a limited number of outfits. Brands to try could be ASOS, Topman, H&M or River Island.
I found out one of my favourite high street jean companies were having a sale, and thought it would be the best opportunity to get in some coloured denim. Monkee Genes are a really great brand of denim and chinos.
Related: What To Wear With Chinos
They have a policy of creating ethical fashion, I really love their ethos. They values are "No Blood, No Sweat, No Tears" and their stuff is made in Turkey, a hot bed of ethical manufacturing and are made from Organic cotton.
They have a really fashionable fit too, most being a skinny fit (they do a supa skinny too, which is too skinny for me!). As we know, the fit is important, so getting the right fit of denim for your body is always essential.
Their jeans are super soft which I love, and contain elastic so have a really nice stretch to the fit. I have been a fan of them for a while, and have had a couple of pair in the past, from classic denim colours to white, and now I have these, a hell of a lot of colours!
The colours I have – Indigo Denim, pale blue, plum, peacock, red, brown, cream, tan, green, white.
Some are chinos, and some are jeans. The white pair here are shorts, they'll come in perfect if I go abroad in the summer, I got the white Monkee jeans a while back.
As you can see, plenty of options here to create a huge number of looks for this summer 🙂 Coloured denim and chinos is one of my favourite fashion trends, they can turn an otherwise stale look into something vibrant and fun for the warmer months.
Thanks For Reading...Want More? 🙌
Hi, I'm Michael 👋 I'd love you to subscribe to my newsletter for exclusive content & updates on my blog straight to your inbox. (No spam, I promise!)