What do you think of the trend which is colourful chinos? I like them lots, but I feel you have to be a very confidant and fashion forward kind of person. They are quite striking, and do stand out, which can be a good thing if you want to stand out from the rest.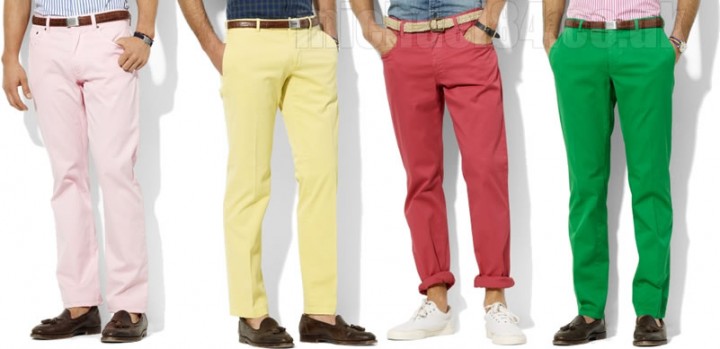 I do like them, but only certain colours. I myself bought some green ones similar to the above, but they did not fit so I had to send them back. I may get some more, and if I do I will get green or red ones, or maybe both. I do like them for the summer, they can look good as long as you match them with the right colour shirt, polo or t-shirt and footwear, and you will be fine.
You can also add a belt like in the pictures above which set them off nicely.
It's important to note the difference between chinos and khakis. What we call chinos are made from a lighter weight of cotton, whereas the khaki is a heavy cotton twill. Chinos can be thought of as a more smart casual choice, with khakis being more workwear type of pants.
I do think a pair of these would be a good addition to any summer wardrobe. Pick a colour you will like, and wear them on the right occasion and you will look good in them.
The first picture are all Ralph Lauren chinos. The 2nd collection of pictures are Acne
Thanks For Reading...Want More? 🙌
Hi, I'm Michael 👋 I'd love you to subscribe to my newsletter for exclusive content & updates on my blog straight to your inbox. (No spam, I promise!)