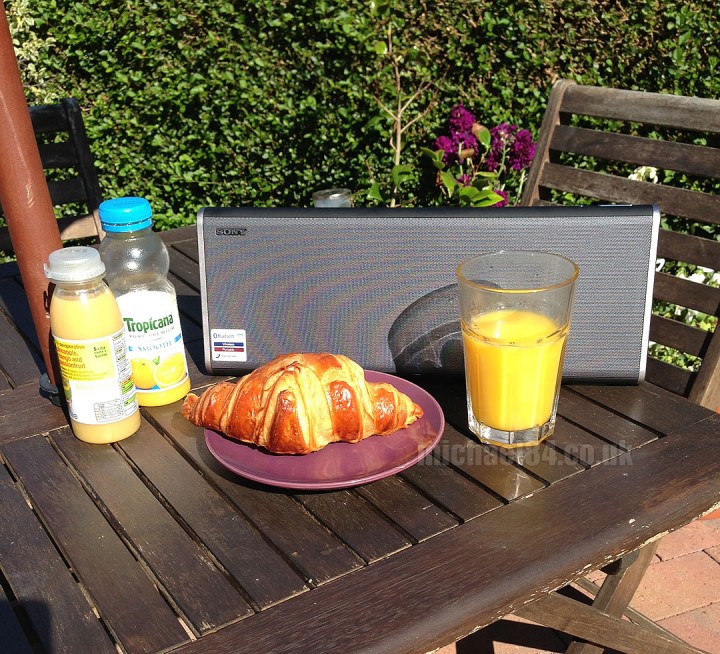 Hey! 🙂
I am not much of a breakfast guy, but today I decided I would eat out in the garden since it was an amazing morning. It all started when I woke up, I actually thought it was Tuesday, I only realised it was Thursday when I looked at my phone, where has the week gone!?

I got a croissant which I do every now and then, with some Tropicana and decided I would try a smoothie too; It was Pineapple, Mango and Passion fruit; I'm not much of a smoothie drinker and it was OK but I could not drink them all the time.
Having Tropicana and a croissant while listening to Grimmy on Radio 1 in the sun…I could get used to that 😉 Not a wonder lots of people like breakfast, when you do it like that it is pretty decent :p
I did have to do some work of course 😀 On Tuesday I planned working then sunbathing, it did not work out, by the time I went out it was really hot but cloudy. Today I changed it up and did enjoyed the sun while I could then did work…Yes I am completely milking the fact we have sun, I have to, we have never had it so good in consecutive days for god knows how long!

I finished the day off with a run a couple of hours ago; What a bad idea that was. It's so hot, too hot to run!
Thanks For Reading...Want More? 🙌
Hi, I'm Michael 👋 I'd love you to subscribe to my newsletter for exclusive content & updates on my blog straight to your inbox. (No spam, I promise!)