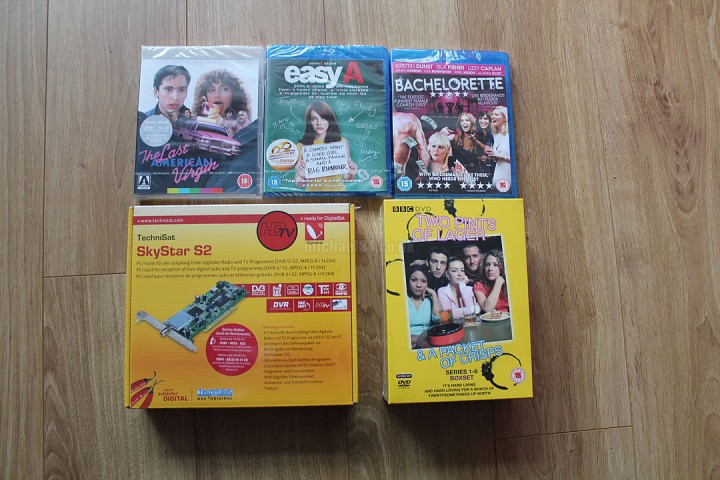 Today I got a few things! 😀 First of all I got a new satellite card. My current one seems to not work any more, so I needed a new one. I used to have so much use out of it, I am a proper Euro boy as you will know, I could watch European music channels, but actually most of them have gone now. The good old days of MTV2 POP, MTV Germany, VIVA Plus and VIVA for free are gone 🙁 I had my old card for almost 10 years, so it has served me well.
As I have mentioned Two Pints Of Lager And A Packet Of Crisps is on TV again, VIVA are showing the old series. I had a look on Amazon and found that they had series 1 – 6 box set for only £16 so I thought I'd get that.
I got some new blu rays, Easy A, Bachelorette and a film called The Last American Virgin. I have actually never even heard of this before, but I heard it was a bit of an 80s classic, so got it to try. Easy A was only £6, and Bachelorette is another "just like the hangover" movie, or so they claim.
I'll be watching one of them tomorrow for film night 😉
Thanks For Reading...Want More? 🙌
Hi, I'm Michael 👋 I'd love you to subscribe to my newsletter for exclusive content & updates on my blog straight to your inbox. (No spam, I promise!)