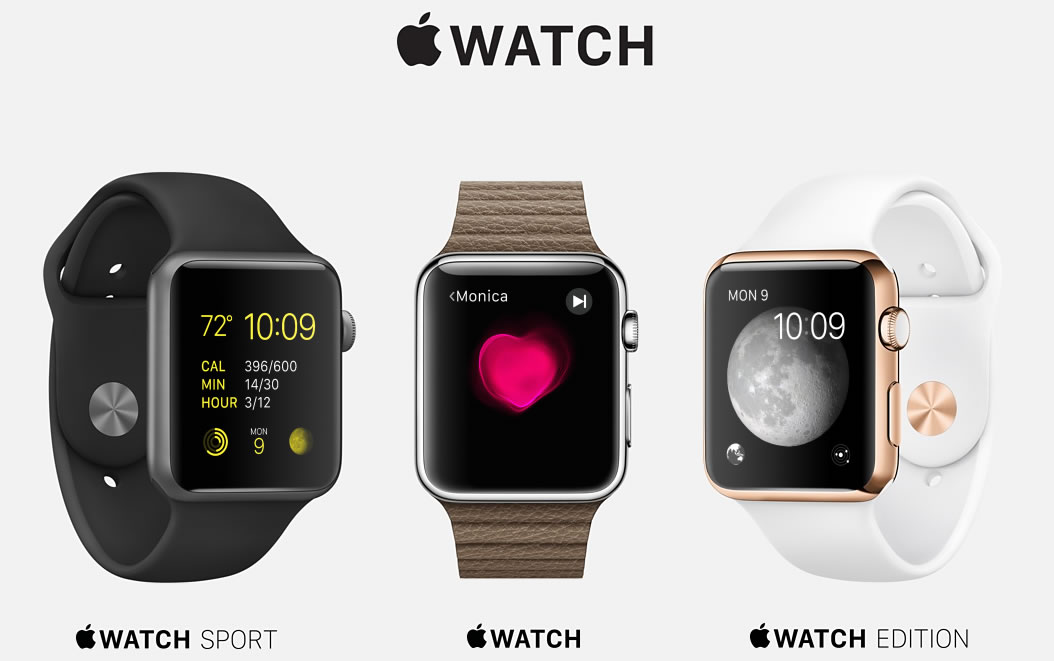 Is 9th March 2015 the date where we see the slow demise of Apple?
They've been talking about and teasing their latest product, the Apple Watch for some time, and today they officially announced the prices and release dates for the watches. I say watches as in the plural, as there are three different models, and within those models different options too. Here's a look at the three models:
Apple Watch Sport
Aluminium Case – 38mm & 42mm
Price – £299 to £339
Available in 10 models
Apple Watch
Stainless Steel Case – 38mm & 42mm
Price – £479 to £949
Available in 20 models
Apple Watch Edition
18ct Rose/Yellow Gold Case – 38mm & 42mm
Price – £8,000 to £13,500
Available In 8 models
Why I won't be getting one
There is simply no need for one! The Apple watch has to be accompanied with your iPhone, so since I will have my iPhone (probably in my pocket) with me, I don't need to use a watch to control it, I will simply use my phone.
I don't want one – Smart watches have been around for a couple of years now, and I've never thought, "I really want one of those". I was not a big advocate of tablets when the first iPad came around, but I could see potential in them as a coffee table device. I got an iPad 2, and I am happy to say I'm still using that almost 4 years later! (4 years, an eternity in technology!).
Battery Life – It's said to last around 18 hours, which means you'll have to charge it every day. I already despise charging my phone, and occasionally forget and try to get as much out the battery as I can if I forget to charge it. If I wear a watch I want it to do the most basic thing; Tell me the time. Without charge, it won't work.
They're not fashionable – I'll get onto this point in more depth below, but a tech watch is a form of a gadget, and is not a fashionable timepiece.
Apple Watch – It's Not Fashionable
Some technology is cool and fashionable. Some will say the iPhone or your favourite smart phone is fashionable, Beats or B&O Headphones, they are bought by many not for their tech specs or quality, but for making a fashion statement. However if you want to make a fashion statement with a watch, you'll not want to buy an Apple Watch.
At the lower end of the scale you can get some very nice watches from the higher end of the high street, if you're a lady you can go for Michael Kors and Marc Jacobs, and guys have plenty from Hugo Boss to Armani with plenty of other big brands for both sexes.
At the high end of the scale you have the quality timepiece makers. Who will spend thousands, or tens of thousands on an Apple Watch when they can buy from Rolex or other luxury watch manufacturers; Much, much cooler with real timepiece heritage, quality and history. Don't forget if you spend thousands on the Edition the non-replaceable battery will eventually cease to work, leaving you with an expensive paperweight.
Phones Are The New Watches
I am a watch wearer. I really love wearing a watch, other than the obvious practical reason, I love the fashion element. Whether it's my flashy looking D&G watch, my sporty Spain Edition ICE Watch, or my smarter understated Versace, I really love wearing them. They are a fashion piece, and go with an outfit. A good watch is a very manly thing to own, it's like buying a car you love, a good suit or pair of shoes. Owning a quality timepiece is one of those manly gentlemen items to own. It's all about the appreciation of design, quality, style and heritage. The Apple Watch will not fit into that.
On the other side of the coin you have those who don't wear a watch. For a lot of people wearing a watch has become obsolete. Why? They have the time on their phone. They're always looking at their phone anyway, so why bother with a watch? If they want to know the time, they can simply look at their watch.
That means both of these types of people will not be purchasing the watch.
Verdict
There's no doubt that Apple fans and some tech fans will buy this, but will it be successful? I don't think so. Sales of other watches have not been brilliant, with the other companies actually wanting the Apple device to take off in the hope it will increase their own sales. This is not a device like a tablet, the consumers who were not so interested in computing bought these as a cheap and convenient way of getting online. It's more of an anorak tech gadget rather than a mass market consumer device like the majority of Apple's other products. It's a gimmick kids toy with a very high price-point.
The Apple Watch will be released on 24th April in the UK.
Will you be buying one?
Thanks For Reading...Want More? 🙌
Hi, I'm Michael 👋 I'd love you to subscribe to my newsletter for exclusive content & updates on my blog straight to your inbox. (No spam, I promise!)