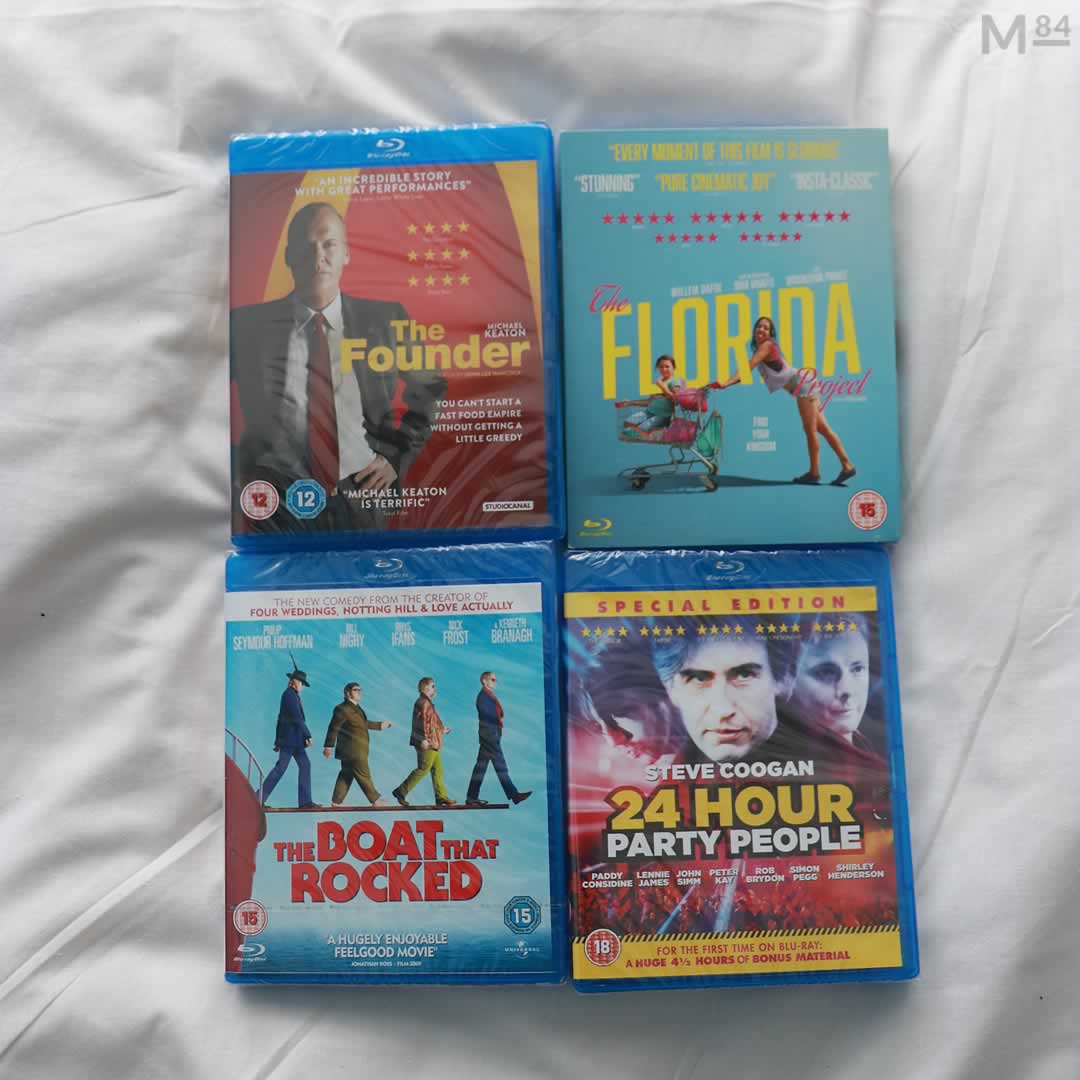 I haven't bought any films for ages! I've been watching a lot on streaming services though, mostly Amazon Prime. Owning films and media is kind of old school now, but I am an old fashioned kind of guy, and like to own my media.
I got a few blu rays on the strength of watching them on Amazon Prime. This is what I've bought.
The Florida Project
The Florida Project is about a 6 year old kid who's brought up by her young mother. Money is always tight and hard to come by, and they live in a motel complex.
Along with Bria Vinaite and Brooklynn Prince it stars Willem Dafoe who plays a great part in the owner of the motel.
The Founder
You've been to McDonalds, but do you know the story of how it all began? That's what the founder is all about. It's a true story drama of how McDonalds got started, how everything came to be and how it got to the size it is today.
Starring Michael Keaton, the film is brilliant. You get a dramatic film mixed in with some cool facts and info on the history of McDonalds including how the idea came around and everything.
The Boat That Rocked
It's a proper British film set in the 1960's. Commercial radio didn't exist, so pirate radio was a big exciting thing. Literally broadcasting from a boat, an 18 year old lad goes to get some life experiences he won't forget.
The pirate radio DJs are battling with the government, who are always trying to bring the radio station down. It's a funny watch, entertaining and has a backdrop of reality too.
The cast is brilliant, starring Phillip Seymour Hoffman, Bill Nighy, Rhys Ifans, Nick Frost and Kenneth Branagh.
24 Hour Party People
24 Hour Party People is definitely a must watch if you have any interest in the music scene in the UK in the 80s. It's the story of Tony Wilson, the founder of Factory Records.
Famous for bands such as the Stone Roses, Happy Mondays and Joy Division, as well as legendary Manchester nightclub The Hacienda.
Steve Coogan plays Tony Wilson, and has appearances from Paddy Considine, Lennie James, John Simm, Peter Kay, Rob Brydon, Simon Pegg, Shirley Henderson and Ralf Little.
And that's the 4 blu rays I've recently bought.
There's so much to watch on Amazon Prime, but I'm glad I've bought these so I can watch them at my leisure for years to come in HD.
Thanks For Reading...Want More? 🙌
Hi, I'm Michael 👋 I'd love you to subscribe to my newsletter for exclusive content & updates on my blog straight to your inbox. (No spam, I promise!)