Here are my fashion picks for today. First there is a cricket jumper. Yeah, I know I have been banging on about these for a few days now, and everytime I keep looking for clothes I keep on seeing them. The one I really want is the All Saints one which is out of stock. I have tried to contact them but they arent very helpful. The one I found is from Jack Wills. I wrote about them previously, and would like something from them, so this may be it.
The t shirt is a Marc Jacobs tee celebrating the 10th anniversary. I like this t-shirt, it is a fitted style, and since I already have a Marc Jacobs t-shirt I know that the quality is good.
Last we have a Ralph Lauren polo from their Big Pony collection. When these first came out I wasnt a huge fan, but now I like them, they are cool. There are many colour combinations available, but I like this yellow and blue combo.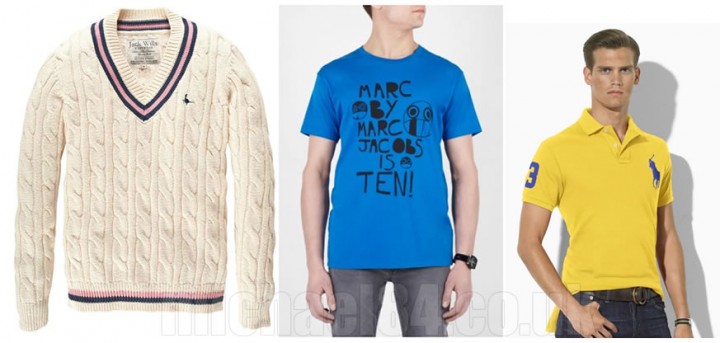 Cricket Jumper from Jack Wills £98
Marc Jacobs T Shirt from My-Wardrobe £65
Ralph Lauren polo from Ralph Lauren £95
What do you think?
Thanks For Reading...Want More? 🙌
Hi, I'm Michael 👋 I'd love you to subscribe to my newsletter for exclusive content & updates on my blog straight to your inbox. (No spam, I promise!)